I love to stay busy. If you looked up a busy bee in the dictionary, I'm sure my photo would be right there. Most every night and weekend, I busy myself with some event or activity.

I'm not quite sure if I keep myself so busy to avoid boredom or if I just have a serious case of FOMO (fear of missing out). Either way, I try to stay in the know on upcoming community events because of my desire to keep busy.

It may be because so many events were canceled last year, but this year's summer social calendar is jam-packed! Below are some of the fun events I've attended/ plan to attend this summer. Join in the fun, and maybe I'll even run into you there.
Live Music
I love spending summer nights listening to live music. There are so many talented bands in our area and so many different places to enjoy the sounds of summer.

Myrtle Beach Pelicans
Nothing says summer like baseball, and lucky for us, there's a minor league team in town. Head over to TicketReturn.Com Field and catch a game; Don't forget the peanuts and crackerjacks.
Rooftop Yoga
Burn off those crackerjack calories at yoga. Every Saturday morning at 9:30, there is Rooftop Yoga at Riptydz. With gorgeous beach views, it's the perfect way to relax and get some exercise.
Outdoor Movies
Whether you're on the north or the south end, you can spend Friday nights catching a movie under the stars. McLean Park in North Myrtle Beach and Valor Park in Market Common both offer family-friendly outdoor films, and they're free admission.
Breakfast with a Mermaid
Another fantastic family-friendly event is Breakfast with a Mermaid at Ripley's Aquarium. Every Tuesday and Saturday, you can enjoy the Aquarium before it opens to the public, eat a delicious hot breakfast, and meet a real, live mermaid!
Surfside Beach Hula Show
Who needs to go to Hawaii when you can get a taste of the islands at the weekly Surfside Beach Hula Shows. Okay, so I definitely still want to go to Hawaii, but enjoying the show on the beach right here is pretty neat too!
Summer Light: Art By Night
Recently, I attended Brookgreen Gardens' Summer Light: Art by Night event. With live music, food trucks, and a beautiful light display, it is a must-attend summer attraction. When you go, I suggest bringing a blanket and arriving early. That way, you'll have a comfy seat during dinner and the music, and you can tour the gardens in the daylight before the light attraction begins.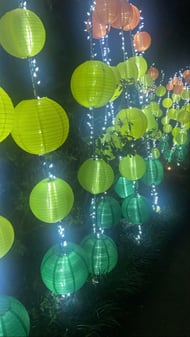 One Time Events: Mark Your Calendar
Conway Riverfest
This weekend is the Conway Riverfest! With a golf cart parade, kids zone, Business Expo, Artisan Market, food and beer garden, fireworks and so much more. There's something for the whole family to enjoy.
A Dogs Way Inlet Flyers Dog Dock Diving Competition
Every February, I attend the South Eastern Wildlife Expo in Charleston and my favorite part is always the dog dock diving. So imagine my excitement when I found out that a dock diving competition is coming to the grand strand. A Dogs Way Inlet Flyers, the area's first dock diving club for dogs, will host a weekend of competition in their outdoor 40' specialty pool & dock. Dogs, regardless of breed, mix or size, will leap after their favorite toy to vie for the longest distance dives & air retrieves, & the fastest hydro dashes.