Head and shoulders above the crowd, with a striking gold comb and a proud strut, Chauncey is easily distinguishable among the array of students, faculty and staff at Coastal Carolina University. As if his distinct look is not eye-catching enough, his fiercely loyal and fun-loving personality has a magnetic effect on all of those who meet him.
Chauncey's Debut at CCU
Chauncey was introduced to Coastal Carolina University in 1963, by Basketball Coach and English Professor, Cal F. Maddox.
At the time, the University's athletic teams were known as the Trojans. Still, as a two-year branch of the University of South Carolina, many people began to push for a nickname that was more closely related to USC's Gamecock. Maddox's proposal of the Chanticleer gave Coastal a mascot that resembles the Gamecock but still gave the University its own identity. ("What Is A Chanticleer?")
According to an issue of Coastal Carolina University Magazine, The Chanticleer, Anatomy of a Mascot:
Maddox became the coach 'sort of by default,' he said. With a young team, he knew they would have to rely on more than just their physical strength, but quick wit, craftiness and teamwork; similarly, to the Chanticleer, a proud, fierce rooster who derived from Geoffrey Chaucer's, The Canterbury Tales. The simile linking his promising new team to Chaucer's barnyard allegory was evident to the young English professor/coach… Although he considered the Chanticleer an appropriate and original nickname for the team, Maddox wanted his players to make the final decision. 'I asked the guys what other names they might like to use… but they finally chose Chanticleers, and it stuck like glue.'
Number One Fan
As expected, Chauncey attends all the University's athletic events. On game days, you might see him in his uniform, driving his motorbike up and down the sidelines or in the stands snapping selfies with fans. He loves interacting with the fans on game days and helping them cheer the "Chants" on to a victory.
"Chauncey is our number one fan," said the University's Director of Athletics, Matt Hogue. "He embodies the dedication and loyalty to the University that all members of Teal Nation should aspire to have."
Although Chauncey is a great "cheerleader" and motivator, his role with the University is much more complex. He attends lots of daily events such as staff meetings, school visits, philanthropic fundraisers, graduations, weddings, etc. However, his community is just a small part of the scope and recognition that is associated with him.
The Face of CCU
"His face and logo are everywhere," said Head Dance Coach/ Mascot Coordinator, Marla Sage. "He's a huge brand element. Even without seeing the name Coastal Carolina University or CCU, people associate Chauncey and his logo with them. He is the face of the University and has a lot to uphold."
As the face of the University, Chauncey exemplifies all the values that Coastal Carolina stands for in his personality and interactions with others: truth, respect, integrity and excellence. It's these qualities that create a connection with faculty,staff and students at the University, as well as individuals within the community.
The Bond of Teal Nation
Chauncey's loyalty to the University is what sets him apart. He goes above and beyond to make it a better place, a place where everyone feels that they belong.
Geoffrey Chaucer, author Canterbury Tales, described him best when he said, "For crowing, there was not his equal in all the land. His voice was merrier than the merry organ that plays in church, and his crowing from his resting place was more trustworthy than a clock."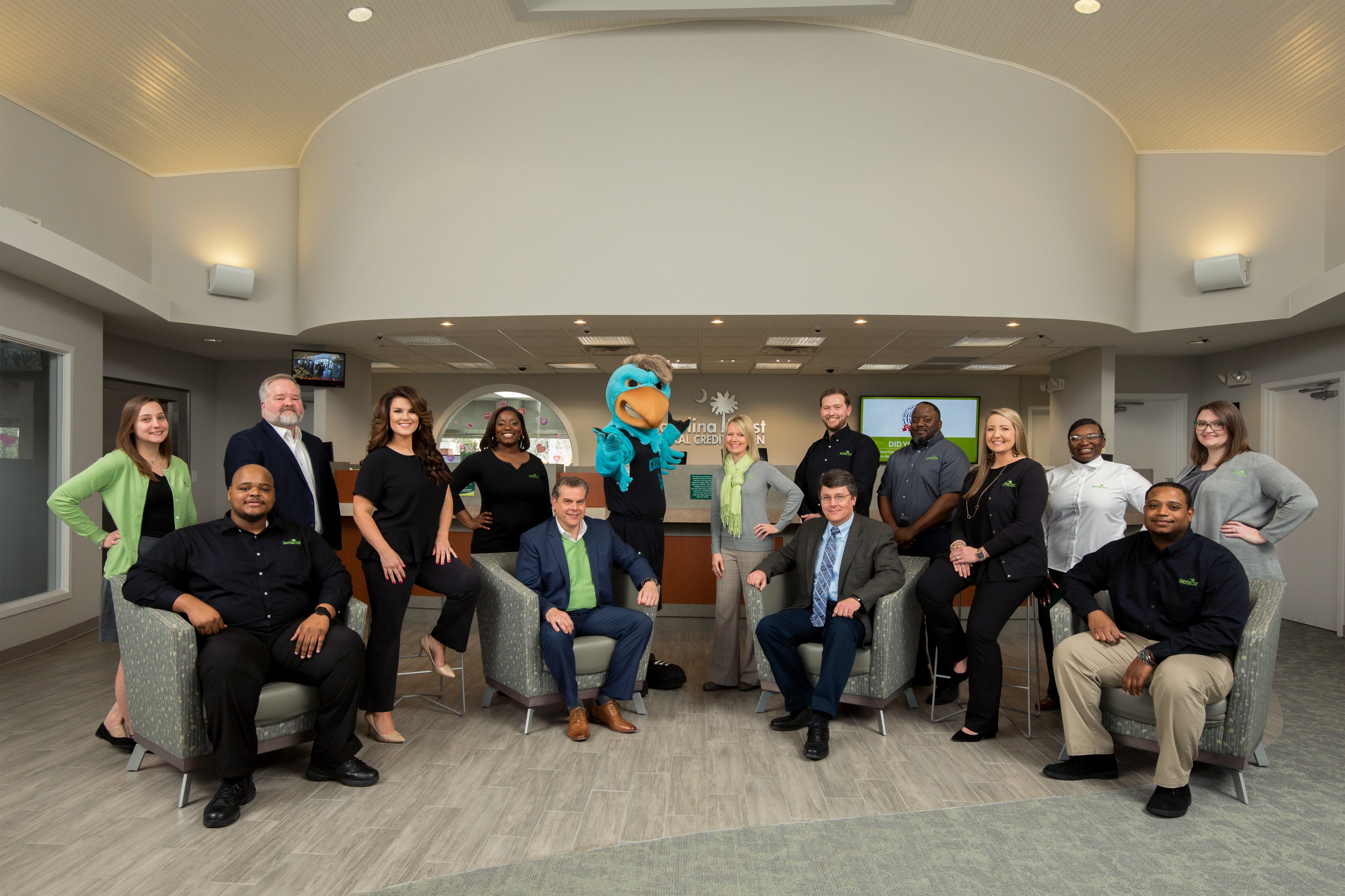 Pictured from L to R: Seated Bobby Rogers, 21st Avenue Teller; August Mize, Digital Marketing Specialist; Tim Carlisle, President/CEO; Dr. Robert B. Burney, Coastal Carolina University Finance Professor and Secretary/Treasurer of the Carolina Trust Board of Directors; Karlie Larrimore, Conway Member Service Representative; Bruce Dawson, Staff Accountant; Standing Sarah Mathias-Perry, Training and Product Specialist; Andy Gable, AVP/Regional Manager of Region 1; Ashlye Knowlin, 21st Avenue Member Service Representative; Chauncey, Coastal Carolina University Mascot; Angelia Johnson, VP of Strategic Initiatives; Jackie Jackson, 21st Avenue Member Service Representative; Chaun Frink, Information Technology System Administrator; Ebony Bradshaw, Surfside Teller; Sarah Huntley, Member Services Center Manager