If you want to save money and make some progress paying off the bills and other debt you owe, you should consider accessing the equity in your home for a debt consolidation loan to achieve your goal of being debt free.
The two main ways to access the equity in your home for a debt consolidation loan from your credit union include a home equity loan and a home equity line of credit, better known as a HELOC. Below are some of the details of a home equity loan vs HELOC so you can see the pros and cons of each.
What's the Difference Between a Home Equity Loan and a HELOC?
While both types of loans have some similarities, such as the fact that both are based on the available equity in your home, there are some big differences between a home equity loan vs a HELOC as well. If you are considering either type of loan that utilizes the equity in your home, you first need to find the amount of equity in your home, which can be done by finding the current value minus the balance of the loan you still owe.
Home Equity Loans – A home equity loan is a type of loan available at your credit union that offers a fixed interest rate and set monthly payment for the money you borrow. Typically referred to as a second mortgage, once the home equity loan is approved, you receive a lump sum of money to spend however you wish.
HELOC – A home equity line of credit is an approved revolving credit line via your credit union that allows you to borrow or draw money as needed and pay it back over time via monthly installments. The HELOC is similar to a credit card, as the interest rate is variable, but it does offer a substantially lower interest rate and a credit limit that is based on the equity of your home.
The main difference between a home equity loan vs HELOC is that home equity loans have a set interest rate, whereas HELOCs typically have adjustable interest rates, like credit cards.
Is a Home Equity Loan or HELOC Better for Debt Consolidation?
While trying to determine the advantages of a home equity loan vs HELOC for your financial situation, there are some things to consider. Weigh the differences between the two types of loans to see the pros and cons so that you can make an educated decision based on your situation and financial goals.
Consider a Home Equity Loan for Debt Consolidation with Carolina Trust: Apply Now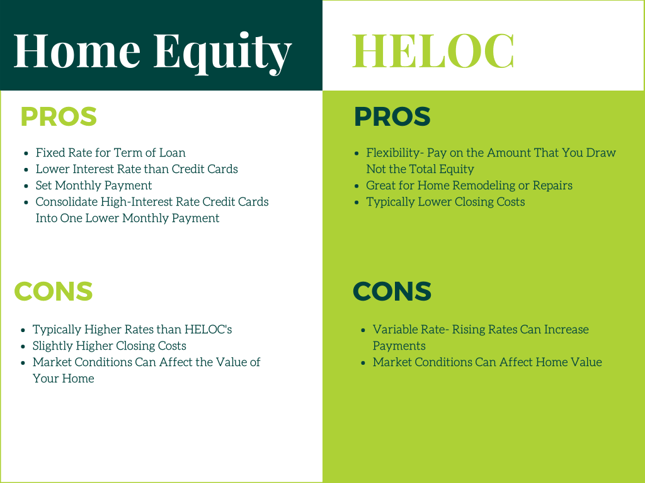 Pros and Cons - Home Equity Loan vs HELOC
Pros of Home Equity Loans
Fixed Rate for Term of Loan
Lower Interest Rate than Credit Cards
Set Monthly Payment
Consolidate High-Interest Rate Credit Cards Into One Lower Monthly Payment
Cons of Home Equity Loans
Typically Higher Rates than HELOC's
Slightly Higher Closing Costs
Market Conditions Can Affect the Value of Your Home
Pros of HELOC
Flexibility- Pay on the Amount that You Draw Not the Total Equity
Great for Home Remodeling or Repairs
Typically Lower Closing Costs
Cons of HELOC
If Market Conditions Change, Your House May Lose Value
Possible Foreclosure
Risk of More Debt
Learn More About the Pros and Cons of a Home Equity Loan vs HELOC
While both types of loans offer a variety of advantages, as expected, there are a few downsides as well, with any type of loan. Here are the pros and cons of getting a home equity loan vs HELOC for debt consolidation.
More About the Pros of Home Equity Loans
Single Payment Each Month – Keeping track of car payments, medical bills, and credit card debt, each month is a challenge. When you consolidate your debt, you can reduce that to just a single payment per month, making your bill-paying regime simple.
Pay Off in Sight – A home equity loan offers a set interest rate over a predetermined amount of time, so you can see your financial goals clearly in sight.
Lower Your Payment – Your set loan terms with lower interest rates also equals a lower monthly payment which gives you extra money each month that enables you to pay off your debt faster.
More About the Cons of Home Equity Loans
Can You Deduct That? - Recent changes to tax laws now limit the deductibility of home equity loans. The new law restricts the deduction of the loan interest to include only the part of the loan money that was used for building and home renovations of the property.
Time Consuming Loan Process – Unlike applying for a personal loan or credit card, applying for a home equity loan requires an in-depth loan process which often includes a home appraisal, bank statements, tax returns, W-2s and other typical financial loan documents. In addition, the process can take up to 30 days to gain access to the funds.
Loan Costs – A home equity loan comes with some fees that you may not be aware of. There are typically closing costs that can include lender fees and appraisals that you are required to pay to get the loan.
More About the Pros of a HELOC
Lower Interest Rates - Homeowners get better loan rates when they borrow against the equity in their homes. Since the debt is secured with your property, HELOCs offer significantly lower interest rates than most credit cards.
Easy Access to Funds - Securing a HELOC now ensures access to funds should you need them later. The HELOC will be easily accessible via a check or debit card for your use for major purchases, home improvement, or in the event of an emergency.
No Penalties – A HELOC lets you access your money when you need it without paying early withdrawal fees or penalties like accounts like your retirement or 401k accounts.
More About the Cons of a HELOC
Change in Market Conditions - If the real estate market conditions in your area change, your property may lose value. If this happens, it means that you might end up owing more on the house than it is worth, making it more difficult to sell.
Possible Foreclosure – A HELOC uses your house as the collateral for the loan, meaning that while you get the benefit of much lower interest rates on the loan, it also presents a greater risk, which is losing the property if you fail to repay the loan as required.
Risk of More Debt – Sometimes when homeowners obtain a HELOC, they make excessive purchases due to the attractive lower interest rate they are offered. This can end up burdening the homeowner with more debt than they started with, which is not a good situation, so it is crucial to be careful of the debt you collect.
Carolina Trust can help with your debt consolidation and offers a variety of loan products including home equity loans, HELOC, personal loans, and more. Contact our loan professionals today to learn more about a home equity loan vs HELOC for your debt consolidation needs.
For more details on the differences between a home equity loan vs HELOC, review our "Definitive Guide to Using Home Equity Loans for Debt Consolidation".